Diversity Outreach Report 08-18
Diversity Outreach Report 04-18
Diversity Outreach Report 12-17
Diversity Outreach Report 7-17
Diversity Outreach Report 3-17
Diversity Outreach Report 12-16
Diversity Outreach Report 10-16
Diversity Outreach Report 7-16
Diversity Outreach Report 3-16
Diversity Outreach Report 12-15
---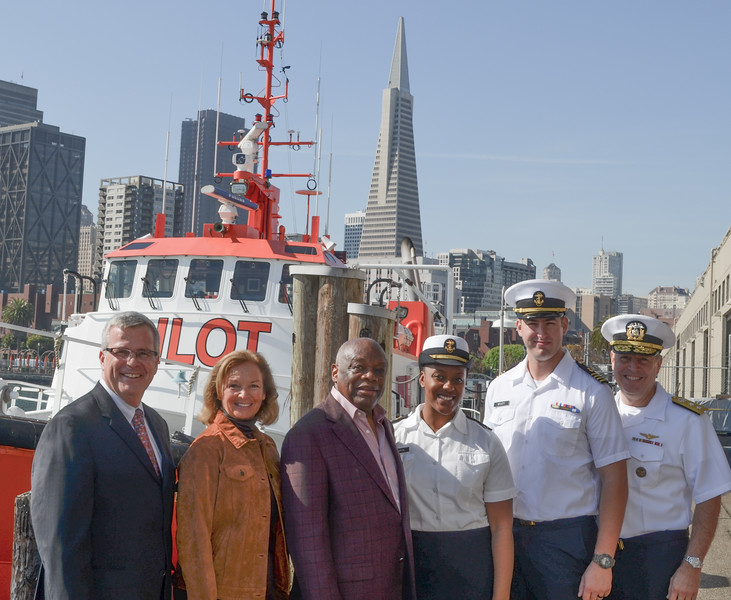 Since 1993, the San Francisco Bar Pilots have proudly supported the California Maritime Academy and the students that benefit from the stellar education provided by the Academy. In October, 2015 we announced an enhanced scholarship program, one that highlights a quality common to all successful CMA students. The San Francisco Bar Pilots Pioneer Scholarship Program rewards two students that show an adventurous, ambitious and leading edge approach to their studies with an annual $5,000 scholarship. Who better to name each of the two Pioneer Scholarships after than two local pioneers, both of whom forged their way on an uncharted career path; Mayor Willie L. Brown and Captain Nancy Wagner. Captain Wagner was the first woman ship pilot in the United States. She served as a San Francisco Bar Pilot for twenty-five years, after being appointed in 1990. Mayor Willie Brown is unquestionably a pioneer. Mayor Brown's leadership and his ability to break down barriers makes him the perfect partner for our pioneering scholarship program. Throughout his career, Mayor Brown has been an advocate for improving educational opportunities throughout the state school systems. Captain Nancy Wagner and Mayor Willie Brown were recognized at the October membership meeting of the San Francisco Bar Pilots, which was also attended by CMA President Tom Cropper, Assistant to the President Melissa Cohea, and CMA cadets Senior Kedina Monroe and Junior Nolan Wyatt and the CA Board of Pilot Commissioners Executive Director Allen Garfinkle.
---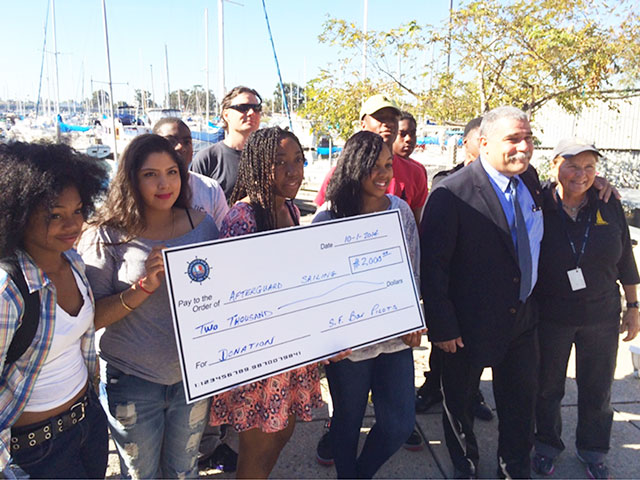 San Francisco Bar Pilot Captain Carl Martin stands next to Captain Mary Swift-Swan, founder of Oakland's Afterguard Sailing Academy. Academy sailing students hold a copy of the $2,000 check the San Francisco Bar Pilots donated to Afterguard.
"We're proud to support Afterguard," said Captain Martin. "We want to help youth from around the Bay Area develop maritime skills and a better appreciation for the ecosystem of the Bay. Afterguard is teaching today the sailors and skippers of tomorrow."
---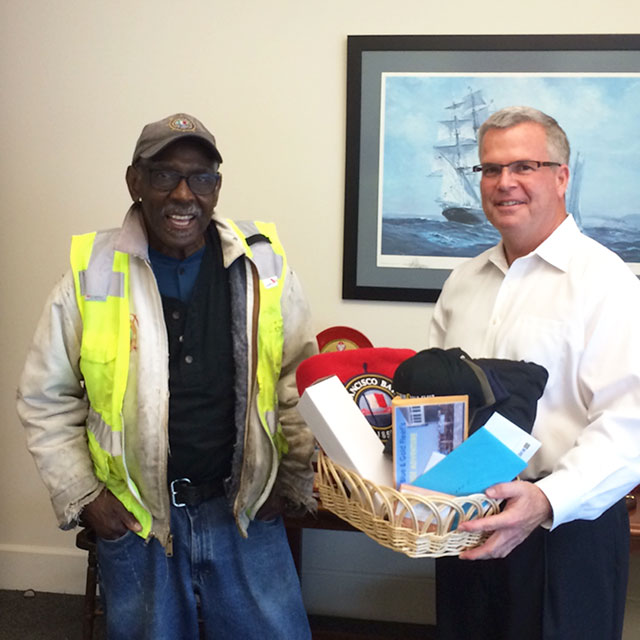 Port Agent and San Francisco Bar Pilots Association President Captain Peter McIsaac presents a gift basket on behalf of Pier 9 tenants to Larry Peoples, who is retiring from the Port of San Francisco after 28 years. Mr. Peoples has been a familiar and friendly face on the San Francisco waterfront for nearly three decades, providing maintenance for Port properties and serving as a de facto ambassador for the Port of San Francisco.
"Larry has always greeted visitors and regulars alike with a smile," said Captain McIsaac. "He has helped make our waterfront the jewel of the city it is today. We wish him the very best in his retirement and thank him for his years of dedicated service to the Port."